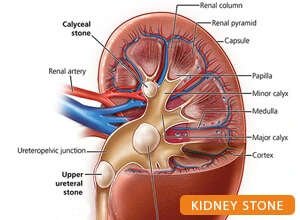 Kidney Stone is not a serious situation if detected early. There are various herbal kidney stone removal treatments and kidney stone treatment in Patna. However, if it is identified late, the affected person has to undergo a right kidney stone remedy. Kidney stones are created by the accumulation of chemical substances dissolved in urine. When the attention level of these materials reaches a particular point, they crystallize into a permanent structure referred to as Kidney Stones.
Dr. Rajesh Ranjan is considered one of the best Urologists in Patna who has dealt with the maximum number of patients tormented by kidney stones by doing kidney stone surgery. Kidney stones, sometimes, are too small to be felt or noticed within the urinary tract, or these can be as huge as a golf ball. Kidney stone in Patna can be treated by following kidney stone surgery under the guidance of the doctor of our hospital.
When the kidney stones impede the urine flow, the ureter enlarges and stretches, inflicting muscle contractions, giving upward push to giant pain, felt in flank, lower abdomen, groin, or leg of the affected side.
Signs And Symptoms Of Kidney Stone:
Pain inside the back, belly, or side.
Pain or burning at some point during urination.
Urgent want to use the washroom.
Blood inside the urine.
Cloudy or stinky urine.
Releasing a small amount of urine at a time.
Nausea and vomiting.
Fever and chills.
So, if you or your close ones are suffering from kidney stone and searching for best kidney doctor in Patna, Satyadev Superspeciality hospital is the best option for you. Here you will get best treatment with experienced doctors at affordable fee.